FRANÇAIS - DEUTSCH - ENGLISH

HOME - CALENDAR - KUGS COMMUNITY
BALLISTICS - RESEARCH & DEVELOPMENT
PRODUCTS - ORDER - CONTACT
AMMUNITION SAFETY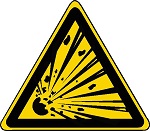 THE RIGHT AMMUNITION
In the history of firearms, how many accidents occurred where the wrong ammunition was inserted into a weapon? It is not uncommon to be fooled by the effortless introduction of a cartridge into a weapon actually intended for a different caliber. Historically, this is the reason why Mauser C96 pistols, first issued in 7.63mm Mauser caliber, had grips marked with huge red 9 numbers when chambered in 9mm Parabellum. And while we are at it, the C96 pistol is more than 100 years old. Its ammunition (7.63mm Mauser) is identical to the 7.62mm Tokarev. Unfortunately the 7.62mm Tokarev is known to be much more powerful than the 7.63mm Mauser. To each weapon its ammunition.

AMMUNITION PROVENANCE
Any ammunition over 20 years old that you did not acquire first-hand should be considered collector ammo! You should either keep it for display only, or (in Switzerland at least) hand it over to a police firearms department to be disposed of. If you consider using reloaded ammunition... make sure that it has been reloaded by you! Also, historically, and as early as WWII, batches of ammunition have been trapped, then made available to the enemy. Yet, there is no way to know whether a batch has been trapped! We therefore recommend you to consider that any ammunition of doubtful origin should be systematically discarded.

COLLECTOR AMMUNITION
While you may be tempted to try out collector ammunition, often in a collector's weapon that matches the ammunition caliber, time has most likely worked against you. For having been moved so often over time, the ammunition powder is likely to have crumbled. Its liveliness would then be increased, which may generate violent overpressure.