FRANÇAIS - DEUTSCH - ENGLISH

HOME - CALENDAR - KUGS COMMUNITY
BALLISTICS - RESEARCH & DEVELOPMENT
PRODUCTS - ORDER - CONTACT
PK1 POCKET KNIFE


DEVELOPEMENT
PROTECTION
MARKETING

The KUGS PK1 Pocket Knife is a jewel of freedom. It has been developed in compliance with the legal constraints of the Swiss Weapons Act (Loi sur les Armes - LArm) and its related Weapons Ordinance (Ordonnance sur les Armes - OArm). Our grandfathers all carried a small knife in their pocket, with no intention of threatening anyone. Just a small blade, always available when they had to cut something, like a loaf of bread, some cheese or sausage, while in the countryside. A pocket knife is like a coin. It belongs in your pocket, not anywhere else!

KUGS products are a guarantee of quality. This is why we wish to emphasize that the PK1 is a product fully made in Switzerland. KUGS supports small artisans, whose craftsmanship you will appreciate. In particular, bear in mind that the sheath of your PK1 is a fine leather work, made in Geneva by a leather craftsman.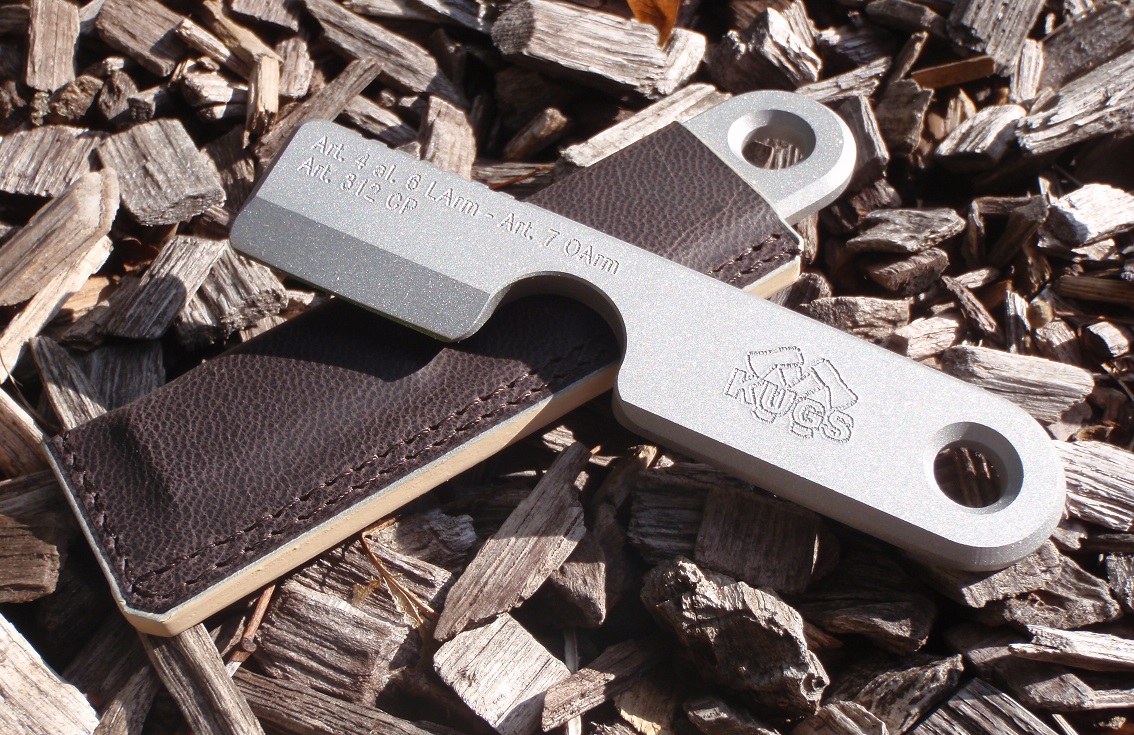 | | |
| --- | --- |
| SWISS MADE | 100% |
| | |
| KNIFE CONSTRUCTION (STAINLESS STEEL) | 316L |
| SHEATH CONSTRUCTION | 100% LEATHER |
| WRAP CONSTRUCTION | 100% COTTON |
| | |
| OVERALL LENGTH | < 120 mm |
| BLADE LENGTH | < 35 mm |
| OVERALL WEIGHT | < 110 g |
| | |
| UNIQUE SERIAL NUMBER | YES |
| CUSTOMISABLE SERIAL NUMBER | YES |
| CUSTOMISABLE WITH CORPORATE LOGO | YES |
| DIRECT EXPORT AVAILABLE | YES |
| | |
| PRICE (TAX INCLUDED) | CHF 220.- |
| CUSTOM SERIAL NUMBER | + CHF 90.- |
| SHIPPING COST | INCLUDED |


While the notion of a pocket knife still exists under the Swiss law (as of 2021), it is clear that all too often, law enforcement officers ignore the law, and abusively seize what they arbitrarily consider to belong in the category of weapons, or dangerous objects. So, with the KUGS PK1 pocket knife, you no longer have to find the right words. The articles of law are engraved on it, so that you can calmly demonstrate at all times that your PK1 does not have to be subject to seizure or confiscation. In accordance with Article 4, paragraph 6 of the Weapons Act and Article 7 of the Weapons Ordinance, not only is the KUGS PK1 not considered a weapon, but in addition, as a pocket knife, the PK1 cannot be considered a dangerous object either.

For all intents and purposes, Article 312 of the Swiss Penal Code (regarding abuse of authority) is also mentioned on your PK1. Moreover, whether in the event of seizure or declaration of theft, its unique serial number may prove handy. Your PK1 can never be confused with another!

ORDER